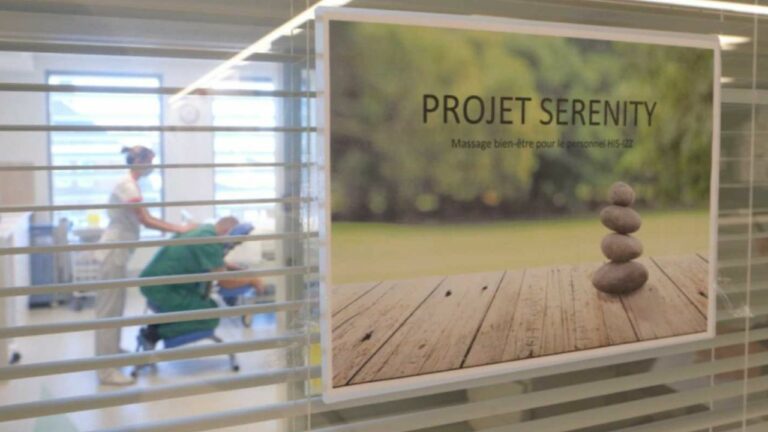 We offer Shiatsu on an ergonomic chair to staff members, including all worker categories throughout the 4 sites of the Hôpitaux Iris Sud consortium (3 hospitals and 1 polyclinic). The objectives of the project are to promote psycho-physical well-being, to provide mental support and recognition through touch and raise awareness of the importance of self-care. With a view to secure accessibility and flexibility, we move from department to department within the premises of the hospital(s) and offer staff a 20-minute moment of care in a quiet spot. This could be a free patient's room, an office, a meeting room or somewhere else. To create a relaxing atmosphere, we play a background music and soften the lighting.
In the Spotlight
---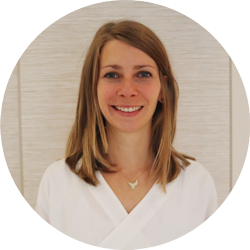 EMMANUELLE BASTIAN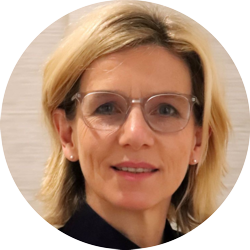 SABINE NAFZIGER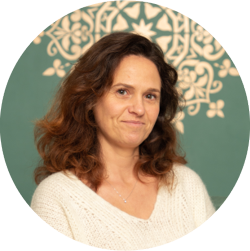 TIPHAINE DE PORTBAIL
Enmmanuelle, Sabine and Tiphaine have all studied with Fabian Bastianelli and Ivan Bel in Belgium. Emmanuelle is an occupational therapist in the hospital, Sabine worked as a lobbyist in Brussels for many years and Tiphaine worked previously as a lawyer.
Foreword
---
Visits are planned in agreement with the head of units via e-mail. The project includes time for this type of coordination activity. Before starting the treatment, we take some time to gather some key information on the physical and psychological status of the receiver. To be able to measure the impact of the treatment, we ask each receiver to fill in a questionnaire before and after the treatment, whereby they quantify levels of pain and stress via standardised analogue visual scales. We also ask for qualitative feedback through multiple choice questions and open comments.
On average, we complete 12 treatments per day, which means about 120 treatments per month. From the start of the project (1st July 2020) until 1st November 2021, 2542 treatments have been given. This pilot project will continue under the name "Action Serenity".
On the basis of around 1500 questionnaires:
– 98 % of the interviewed persons felt well or very well just after the treatment versus 20% beforehand;
– On the basis of standardized analogue visual scales, a significant decrease of stress and pain can be observed after the treatment;
– 98 % of the receivers wish to repeat the experience.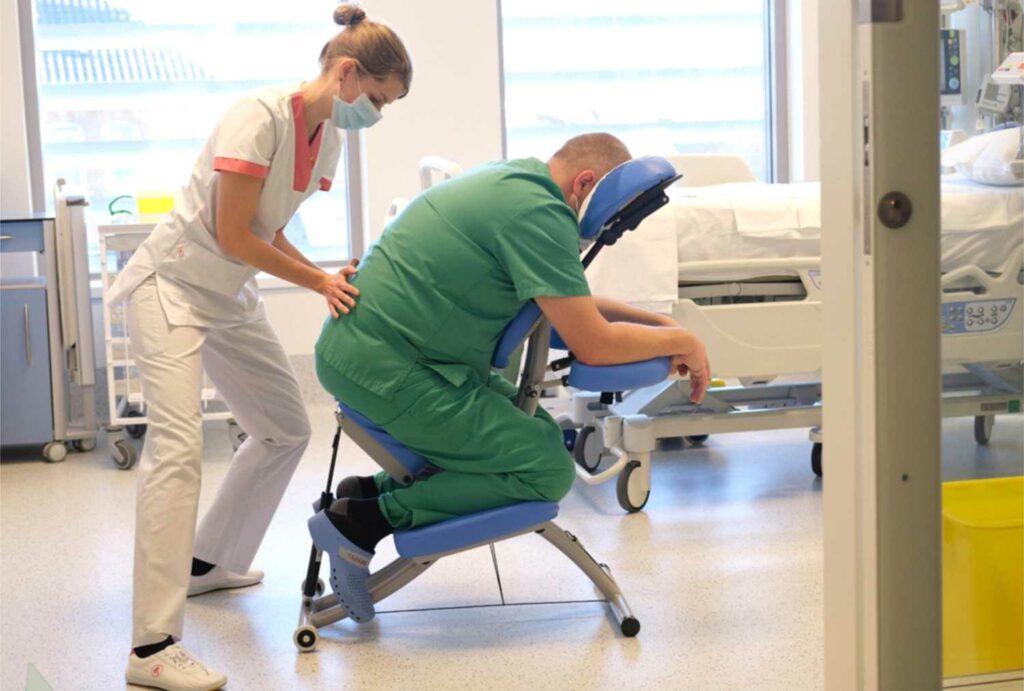 Interviews:
https://dossiers.dhnet.be/les-heros-de-l-ombre-de-l-hopital/chap6.php
We have used photo stills captured from the above video interview. All copyrights to these images belong to their respective authors.
Contact details
Emmanuelle Bastian emmanuellebastian1@gmail.com
Sabine Nafziger sabine.nafziger@hotmail.com
Tiphaine de Portbail tdeportbail@gmail.com
Joelle Bardeche jbardeche@his-izz.be
Social media
Facebook: https://www.facebook.com/shiatsu.bienetre
Websites: www.beshiatsu.com, www.tiphainedeportbail.com, www.voyageverssoi.eu
There is a hospital facebook page where information about the project is published, but accessible only for hospital workers.
---