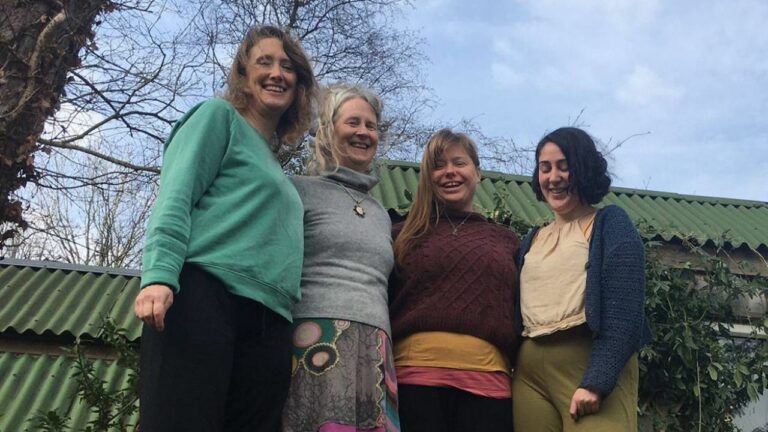 Shiatsu For Change is a Community Interest Company specifically set up to provide affordable Shiatsu, Qigong and self-healing across the community. It came into existence through Kirsty's desire to work with other kinds of women than those who usually show up for treatment, women who really need treatment but perhaps wouldn't usually be able to access it, either due to lack of funds or knowledge about how Shiatsu might help. The goal of this project is to give women a choice to take more responsibility for their own physical and mental health and wellbeing.
In the Spotlight
---
Kirsty Hurd-Thomas
Kirsty is a graduate of the Devon School of Shiatsu, where she also assisted for several years. She has trained in Movement Shiatsu and Transformational Shiatsu / Shiatsu with Soul. She takes regular CPD and is a member of the UK Shiatsu Society (MRSS). Kirsty teaches Do-in, meridian location and Shiatsu at the International School of Macrobiotics. She has a background in drama and movement work and has been following body-based practices for over twenty years. This informs her work as a Shiatsu practitioner and means that she can offer a strong presence and holding for her clients. Kirsty continues to practice Qi gong, Five Rhythms and Movement of Being. She practices Shiatsu in Totnes, Devon, UK, where she lives with her family and two cats.
Foreword
---
Through encounters with clients, it became clear to Kirsty that, although lots of women need and want treatment and want to become more responsible for their own health, many can't afford it, and feel their health suffers accordingly. The project is open to applications from all women, but focusing particularly on those with low incomes and those whose income or physical or mental health has been adversely affected by Covid. The project aims to help women to feel supported in their health, increasing resilience, giving an opportunity for empowerment through self-help skills and having a positive impact on long term health.
The project is open to applications from all women, but focuses particularly on those with low income and those whose income or physical or mental health has been adversely affected by Covid. Over the last year we have seen participants' symptoms significantly improving after Shiatsu treatment. With more tools for self-care, through our Qigong classes, women have been able to adapt their relationship to their health, vitality and immunity, enabling them to participate more fully in their own lives. From our consultations, we know that Shiatsu and Qigong address feelings of anxiety, helplessness and isolation such as caused by the pandemic by bringing safe physical contact, connection and empowerment into women's lives.
Postface
---
The first round of funding was to pay for treatments with an experienced practitioner. We are delighted to have received National Lottery funding for the second year running to be able to offer support to local women who wouldn't normally be able to access Shiatsu or Qigong and are struggling with their health. We are now beginning to expand the project to include volunteers who are either students, newly qualified practitioners or therapists trying to find a way back into Shiatsu after the pandemic. The project "Well Women" is a continuation of our successful "Supporting Women" project, adapted for the current situation. The project benefits women struggling to cope with health issues including "Long Covid". It is a series of six Shiatsu treatments for a minimal donation, followed by the offer of a free place on a 5-week Qigong course aimed at supporting women's health and providing self-help skills.