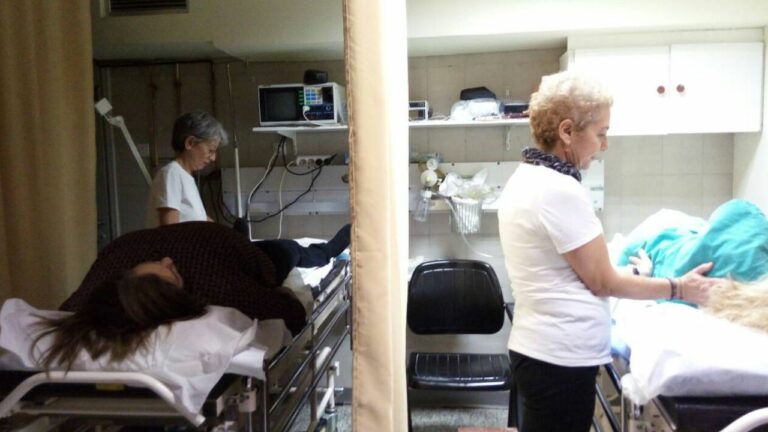 Patients of all ages, origins, educational levels and economic status and with all kinds of problems visit these public hospitals. In the Ippokration Pain Clinic, all of these patients had the opportunity to hear about Shiatsu and try it for free, based on their trust for the Clinic doctors who facilitated it.
The doctors themselves came to realise how effective Shiatsu is, not only for pain management but also in relaxing and nurturing the patients, who invariably asked for further sessions. The possibility of using Shiatsu as a complementary tool for chronic pain management, became clear to these doctors, who had the opportunity to observe Shiatsu sessions at close quarter while treating their patients.
In the Spotlight
---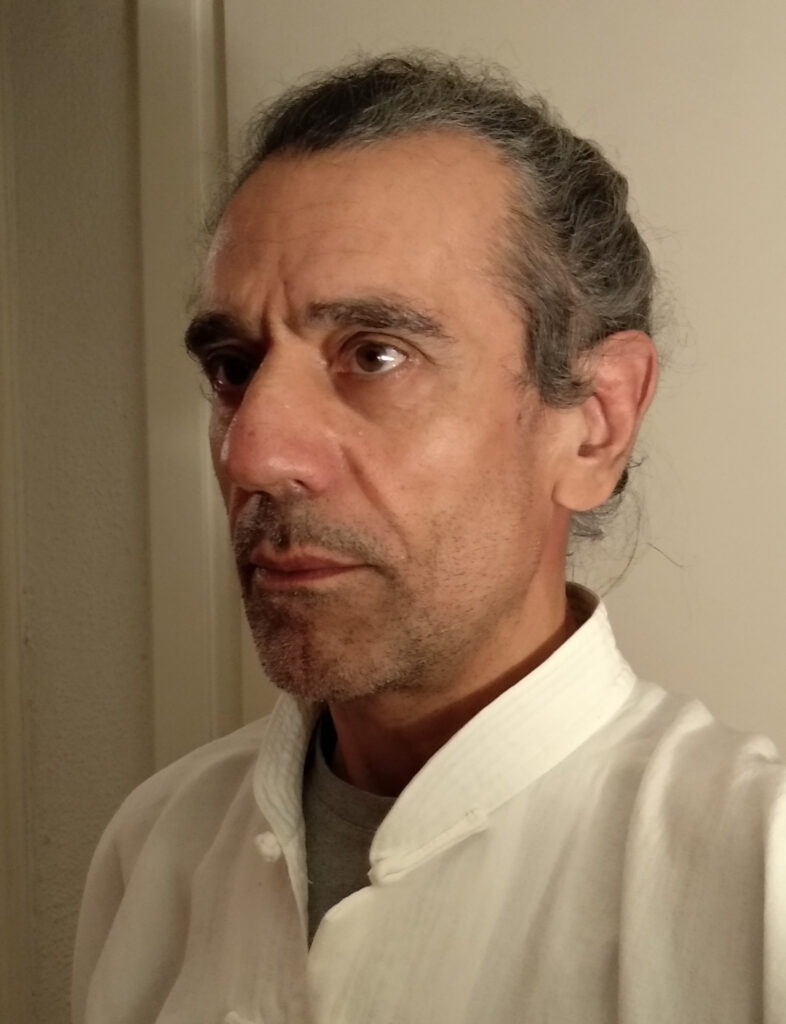 Themis Rinas
Ι got involved with Shiatsu in 2009, starting my 3-year professional training at the N.H.S school in Athens, Greece. Since then, I have been exploring and finding ways to expand and deepen my knowledge and experience, attending postgraduate workshops with accomplished teachers in Greece and abroad.

From December of 2011 until June of 2012, I was part of the group that offered free Shiatsu sessions to patients in cooperation with the doctors of the Pain Clinic of the Areteion Hospital, Athens.

From January 2017, with the support of the Hellenic Shiatsu Society, and with other certified members of the Hellenic Shiatsu Society, I began to offer free Shiatsu sessions to the patients at the Hippokratio Hospital pain clinic in Athens, once again in collaboration with the doctors there.

I am interested in martial arts and their therapeutic effects, and since September 2016, have led private and group sessions in Tai Ji and Qi Gong.

Since March 2022, I have served as President of the Hellenic Shiatsu Society.
Foreword
---
A team of ten Shiatsu practitioners offered free Shiatsu treatments, one practitioner for each day the clinic was open. This pattern was repeated every week. Treatments lasted from 10 to 60 minutes, depending on conditions and available time. Shiatsu sessions took place in a room with 3 beds, where doctors were examining and treating other patients.

Working in these narrow confines, with practitioners, doctors, nurses and sometimes patients' relatives all together simultaneously, demonstrated just how much Shiatsu has to offer – no matter how difficult the conditions are, it can effectively offer relief and well-being to receivers. Shiatsu energy relaxed everybody in the room. Shiatsu really is the touch of the soul!
As part of the Hellenic Shiatsu Society's annual campaign to inform the public about Shiatsu, the team also offered 30-minute Shiatsu treatments to the hospital staff. In total, 36 treatments were given in October 2018 and 44 in October 2019.
The hospital staff expressed their gratitude for the relief and relaxation that Shiatsu offered them. Since then, they have been looking for ways to receive the benefits of Shiatsu more often during working hours at the Hospital, but unfortunately without result as yet…
During the first 2 years of its presence in the Hospital, the team also participated in the open day for Pain Clinics, organized by the Hellenic Society for Pain Treatment & Palliative care. (ΠΑΡΗΣΥΑ)
In September 2022, Themis Rinas presented this project at the 22nd Congress for Regional Anaesthesia and Palliative Care, organized by the Hellenic Society for Pain Treatment and Palliative Care at Volos, Greece. (ΠΑΡΗΣΥΑ)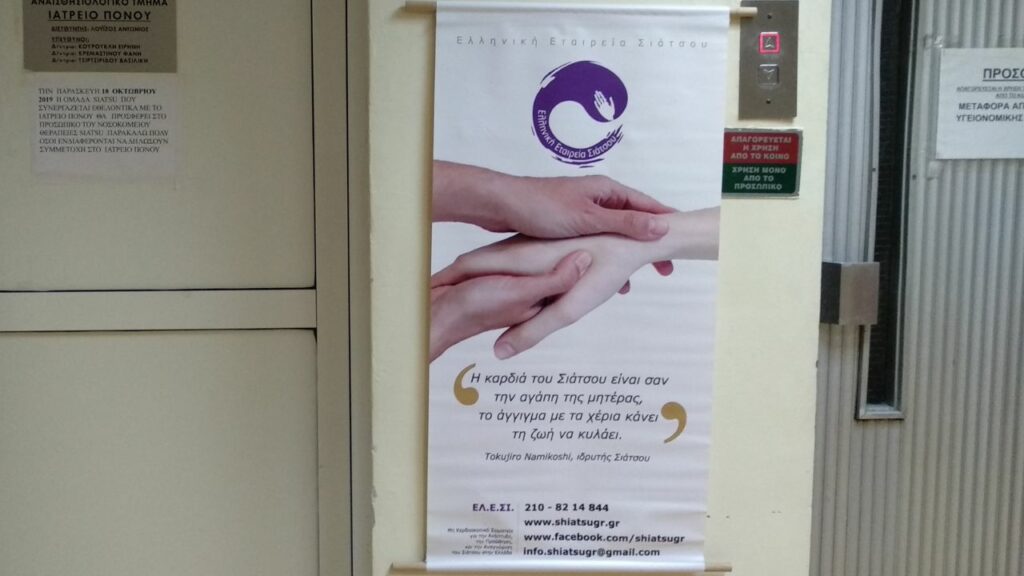 Statistics
Number of treatments
2017 – 221
2018 – 342
2019 – 344
2020 – 70
Total – 977 treatments
A total of 583 patients received Shiatsu treatments (453 Women and 130 Men)
The number of treatments that patients received varied from 1 to 14
1 treatment – 400 patients
2-5 treatments – 55 patients
6 or more treatmets – 19 patients
Ages ranged from 19 – 94
Average age – 64
Pathology mainly concerned:
Musculoskeletal pain – 440 patients
Neuropathic pain – 49
Headaches – 23
Postoperative pain – 18
Cancer-related pain – 17
Rheumatoid arthritis – 12
Fibromyalgia – 9
Multiple Sclerosis – 3
Parkinson's – 1
Postface
---
The majority of the patients who received treatments, experienced an improvement in symptoms.
Wherever treatments were repeated, the improvement was greater.
In several cases, there was an improvement in collateral pathology, ie for reasons other than the original reason they came to the Pain Clinic.
It is important to note that most patients received concomitant medication, so it is difficult to assess the exact extent of Shiatsu's contribution. Discussions are on-going with the doctors regarding an official study that would evaluate the contribution of Shiatsu treatments to pain management for the Clinic patients.
Finally, it is important to note that above and beyond improvement in their symptoms, patients generally reported an increased sense of well-being and relaxation.
The success of this project is also due to the support of the following Anesthesiologist Doctors at the pain clinic: Mrs E. Kouroukli, Mrs F. Kremastinou and Mrs V. Tsirtsiridou, as well as the head nurse of the clinic, Mrs K. Kozompoli. Our warmest thanks go to all of them!